The Institute of English Studies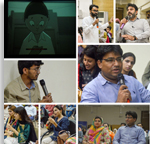 hosted the remarkable team of Ms. Zeeshan Zia Raja on the 24th of May 2022. Ms. Raja is a renowned humanitarian, women's rights activist, founder of American Lycetuff and 101 Incredible Women of Power.
She eloquently shared her passionate take on women's empowerment, in the context of her recently launched book "I'm Every Woman"; which has also been presented at the President House and the Governor House. She reiterated the need of mentoring women from all walks of life and providing them with "respect" and "choice".
Her talk was concluded with a detailed Q&A;session, led by Ms. Ayesha Akram, a distribution of mementos, and the Director IES, Prof. Dr. Amra Raza's closing remarks.